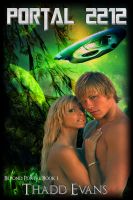 In PORTAL 2212 Thadd Evans tells a survival story of humans, raised aboard an alien vessel, trying to survive on a strange planet.
The humans on board the ship travel great distances in chambers designed to slow their aging during their long journey. Cared for by android attendants, growing up together on the ship, they are closely knit and completely innocent. When forced to land on an alien world to seek shelter from a deadly radiation, they face unknown dangers as they hike through the exotic landscape.
The characters go through many harrowing experiences during their journey on the planet. However, though the author relates the events, losses, and fears of the characters, lack of description coupled with unrealistic reactions by the humans make those same characters unbelievable and unsympathetic. Other than some small comments about how "horrible" things have become, no real emotion is shown. The characters are unconvincing.
The plot also lacks direction. Without giving away spoilers, in the end, their hike on the planet to find emergency shelter didn't really make sense. I was left confused as to why they even left the ship. Questions were raised but never answered, such as why there were coconuts and legumes on an alien planet that is otherwise so hostile to human life? After struggling to get through the book, in the end I'm still not sure what happened or why.
However, the author clearly has an impressive imagination. Several times I looked up technical terms, because it peaked my interest in actual science, one of the traditional goals of science fiction. If the prose were fleshed out more with better description and the characters acted more believably, this would be a compelling novel. Sadly, the narrative falls flat for lack of these things. I found this a difficult read, though I would be interested to see how the author approaches future stories. This one had potential.